What to Do in a Car Accident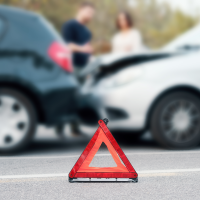 If you've been in a car crash, it's hard to know what to do next. Your head may be reeling from the accident, and you may be worried about your passengers or other people involved in the crash. Even after you leave the scene, it's hard to focus on what you need to do to get your life back in order. Below, we offer tips on the important steps to take after a car crash. If you've been hurt in a San Diego car accident, call our Southern California personal injury and car accident lawyers for help.
Stop, Get to a Safe Place, Exchange Information
If you are in a crash, the first thing to do is to pull over, stop, and otherwise get yourself to a safe space. If you can't move your vehicle because of the damage, get yourself to a safe spot on the side of the road. If you are too hurt or stuck to get out of your car, wait for assistance. Call 911 if appropriate.
California law requires you to stop at the scene of a car accident if the accident might have involved property damage or personal injury. If you collide with another vehicle, you are obligated to stop, exchange contact and insurance information, and render appropriate assistance to anyone hurt. The other drivers involved have the same obligation. Make sure to get their license plate, VIN, contact information, and insurance information.
Check Yourself and Others for Injury
After an accident, check yourself, your passengers, and other people involved for injuries. If people are hurt, call 911 or ask someone else to do so. If you are too hurt to move, wait for emergency assistance.
Report the Accident
If you were involved in an accident, especially if someone else was to blame, you should report the accident to the authorities. If anyone is hurt, call 911. Otherwise, call the police to report the accident. The police will come, inspect the scene, and generate an accident report. That report may become a key piece of evidence for your eventual insurance claims or personal injury lawsuit.
Many at-fault drivers will ask you to keep it "between yourselves" and "leave the cops out of it." We strongly advise against doing so. You don't yet know how injured you may be, how extensive your medical bills may turn out, and what other damages you have suffered. Reporting the accident to the police and working through insurance gives you a much better chance at full compensation than taking the word of a stranger.
If anyone was injured, or if there was property damage in excess of $1,000, you'll also need to report the accident to the DMV.
See a Doctor
If you are seriously hurt at the scene, wait for emergency personnel and accept emergency medical care. Take the ambulance–worry about the cost later. Your health is more important.
Even if you don't think that you are seriously hurt, it's important to get to a doctor soon after the accident. After you are done at the scene with the police and collecting other evidence, go see a doctor as soon as you can. You could have hidden or latent injuries such as a concussion, organ damage, or internal bleeding. Getting medical care soon after the crash also improves your personal injury claims by eliminating the argument that you were injured elsewhere later, an excuse defense lawyers and insurance companies love to try.
Start Collecting Evidence – Photos, Witness Information, Documents, etc.
While you are at the scene, start collecting key evidence. Take photos of your injuries, other injured parties, the vehicle damage, and the surrounding area (traffic signs, traffic lights, traffic cameras, the weather and road conditions, etc.). If there are witnesses, try to get their contact information so you and your lawyer can talk to them later. Ask the police about getting a copy of the police report.
After you leave the scene, keep copies of all documents generated in connection with your accident. That includes the police report, medical records, medical bills, communications with your employer about missing work, insurance communications, etc. All of these documents will help your attorney hit the ground running and get you the compensation you deserve as soon as possible.
Talk to a Seasoned Car Accident Attorney
Ultimately, if you hope to obtain full compensation for the harm you have suffered, you'll need to work with a savvy car crash lawyer. Your attorney will investigate the accident, gather evidence, negotiate with insurers and defense lawyers, work to obtain a fair settlement, and take your case to trial if necessary. Injured accident victims with lawyers tend to collect much greater compensation than victims who try to go it alone.
If you've been hurt in a car accident in Southern California, call the Kalfayan Law Firm in Del Mar, California, just north of San Diego, for a free consultation. Our dedicated traffic accident injury law firm represents San Diego area residents with diligence and passion. We'll see your case through to the end and seek both justice and compensation for the harm you have suffered.