Antitrust and State Action Immunity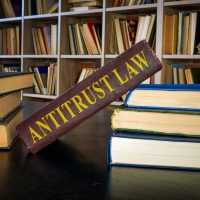 Antitrust laws are designed to promote fair competition and protect consumers from monopolistic practices, but in some instances what looks like anti-competitive behavior is actually immune from litigation. Understanding these exemptions and immunities is crucial for potential plaintiffs, especially consumers impacted by businesses engaging in anticompetitive behavior that is covered by "State Action." Read on to learn more about this antitrust immunity. For help with antitrust litigation or consumer class action lawsuits in California or nationwide, contact the Kalfayan Law Firm for a free consultation from an experienced and successful class action antitrust lawyer.
State Action Antitrust Immunity
State action antitrust immunity grants immunity to certain state actions from federal antitrust laws. This immunity arises from the Parker v. Brown Supreme Court case in 1943. In this case, the Court ruled that when a state, acting in its sovereign capacity, engages in actions that the Court "assumed for present purposes…would violate the Sherman Act if…made effective solely by virtue of a contract, combination or conspiracy of private persons, individual or corporate" (Id at 317 US 350), it is not subject to federal antitrust laws.
To qualify for state action antitrust immunity, two conditions must be met:
Clear Articulation: The anticompetitive conduct must be the result of a clearly articulated state policy. This means the state's intent to restrain competition must be explicit and stated clearly in the policy.

Active Supervision: The state must actively supervise the anticompetitive conduct to ensure it aligns with the state's policy objectives. This requirement aims to prevent states from delegating regulatory authority to private entities without proper oversight.
Significance of Antitrust Exemptions and Immunities in California and Nationwide
State action antitrust immunity plays a vital role in various industries and sectors, particularly in healthcare and utilities. In California, for instance, the California Dental Board was granted state action antitrust immunity, allowing it to set minimum prices for dental services without violating federal antitrust laws.
Nationwide, this immunity has been a subject of scrutiny, especially when private entities attempt to evade antitrust laws by arguing state action immunity under the guise of state regulation. Courts have carefully evaluated such claims to ensure they genuinely meet the requirements of clear articulation and active supervision.
Get Experienced Legal Help to Fight Anticompetitive Practices That Harm Consumers
Antitrust exemptions and immunities can significantly impact industries, groups, and the overall competitive landscape. Understanding these exemptions is crucial for parties engaged in antitrust litigation, particularly consumers filing class-action complaints against businesses involved in anticompetitive or monopolistic practices. By staying informed about these legal nuances, parties can navigate antitrust issues with greater clarity and confidence. For help with antitrust litigation in California or nationwide, call the Kalfayan Law Firm in Del Mar for a no-cost consultation.